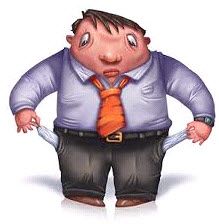 In my years marketing online and offline, I've interacted with many good, honest people who were aspiring to be entrepreneurs. They all had dreams of becoming successful and being in control of their own future.
Many of these people were truly ambitious and wanted to start an online business because they had dreams of being their own boss but had limited funds to get started and run a home-based business. Even when they saw the income potential and the value of taking advantage of tax benefits (here in the US) for starting a business at home, they just can't find the money to get started. Some of these folks are coming from hard life situations (unemployment, single parent, low income, etc.).
Sometimes these folks had such financial challenges, that they didn't even have enough spare change to afford to get into an established home-based network marketing business at a basic entry level or even afford relatively inexpensive tools like web hosting or an autoresponder.
"People do not care how much you know until they know how much you care." ~ John Maxwell.
I have the opinion that if someone really wants something bad enough, they'll find a way to make it happen. So if someone wants to get started in a business they should consider finding the money by selling something for it or even taking a temporary part-time job, and use that money to fund their online/home-based business until they can generate an income to support it.
New Alternatives and the New Home-Based Business Landscape
Fortunately, things changed fast on the internet, and with the advent of things like social media, it IS now fairly easy to market an online business without spending a penny… and if you HATE selling, you can earn a decent income without even selling anything directly like meeting at the local coffee shop or across the kitchen table. The biggest change, and the secret, actually is in what makes social media "social."
Social media is all about networking and sharing. You can now generate a decent living just by making friends online and SHARING. You can share your own branded videos on Youtube, your own blogs, ebooks, graphics, webinar recordings, etc. These can be branded with YOUR affiliate links and find their way on Google if you learn some SEO tricks. You can share things on Facebook, Pinterest, Twitter, a blog or discussion forum, etc., and when someone checks them out, they are also checking out your links.
Since people LOVE to share content on social media sites, your "friends" or followers will often repost your shared content, and when they do, they pass along YOUR affiliate link or your blog link. The things is, you share interesting content, and never really need to ask them to buy anything. By sharing content, you can get people to "know, like and trust" you so they eventually feel comfortable doing business with you. By the way, a really great place to get an inexpensive blog to post your own content with all of the tools you need for an online business could be found at: http://EarnMoreAtHome.hostthenprofit.com/
Helping Financially-Challenged People Start an Online Business
The best part is that if a person doesn't have the money to join a good online business or get the needed resources, I can help them earn enough money by offering an alternative FREE online business to earn some FREE MONEY.  Not only will they be able to finally get into the desired business with earned money, but they'll learn how to market online in the process.
Here's what I like to use to help those folks out to earn FREE Money and get Online Marketing training: http://usahomeincome.info
Up from that, there are some very inexpensive opportunities that people can get involved in. The Five Dollar Funnel is only $5 monthly and is growing fast on the internet. Click Here to Learn More.
My biggest pick after that would be the Four Corners Alliance Group which is an incredible opportunity that is also taking the internet by storm. For a ONE-TIME $18 investment, you can create a serious income with this if you join the right team. Team Global Impact is the top team in the opportunity and they provide all of the tools you need to get it going. Check out Four Corners Alliance Group Here.
As entrepreneurs with dreams of our own, we should also help and give a hand up (not a hand out) to those who have their own dreams. I'm a strong believer that when you help others, it will come back to you. So this is a strategy I use to help those who would partner with me. I hope you employ something similar to help others.