For the last couple of years there has been a number of financial institutions offering people the opportunity to earn money by referring others to use their prepaid credit cards. This is actually a really great way to earn extra money without any investment and you CAN actually earn some pretty good money with it with NO RISK!
One of the top providers of these prepaid credit cards is Netspend.
In this post, I'll give you a quick peek of the company and what they have to offer you as a very simple, risk-free, income opportunity. I also provide a video that explains how it all works. I also answer some common questions that folks may have about Netspend. Finally at the end of this article, I share some tips on how to market Netspend so that you can start making free money with this great little opportunity.
I do need to tell you that I looked into Netspend when I first heard about it months ago and decided to give it a try to see if it was worth my while. I'm pleased to say that I'm VERY PLEASED with my experience and found out it is DEFINITELY a perfectly legitimate and reliable way to make money. It's also a great little convenient tool to use in your regular spending habits. I've made money referring Netspend to others, and continue to do so. The only downside to this opportunity is that it's ONLY AVAILABLE in the U.S. No other country can participate in this particular prepaid credit card program.
Ok, so let's jump into the details…
What is Netspend?
NetSpend Corporation is a provider of reloadable prepaid debit cards. They are backed by a U.S. Bank like most providers of prepaid credit cards. They have an "A" Rating from the BBB (Better Business Bureau). NetSpend cards are available free online and are also in over 30,000 nationwide locations including grocery stores, check cashers and convenience stores. They have been in business since 1999 and have enabled more than 7 million consumers to make purchases, pay bills and manage their money without the need for a checking account or credit history.
Netspend offers you a card like any other prepaid debit credit card that you could find at stores such as grocery store gift card racks and Walmart. Anyone can get one, it's free, it has nothing to do with your credit or credit score. It works just like a gift card would, but because NetSpend's prepaid debit cards are Mastercards and Visas, you can use them to pay bills and make purchases. So the thing that makes THIS card special and unique from other prepaid debit cards, is that NetSpend offers you a great income opportunity!
How Can I Make Money With NetSpend?
NetSpend offers it's users a great way to earn money through their referral program. Netspend will pay you a $20 referral bonus if you refer someone else who gets a new Netspend card. But it doesn't stop there, they will also give away $20 to the person who gets that card at the same time. In other words, you can get paid $20 just for signing up and activating the card. It's an easy money maker and it doesn't cost anything! Check out the video below that explains just how it works.
Netspend is Only Available in the U.S.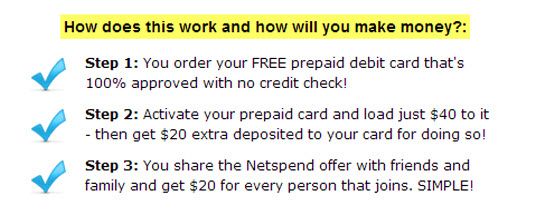 How long does it take to receive my NetSpend Prepaid MasterCard in the mail?
You should receive your card approximately 7 to 10 business days after you place your order. If you do not receive your card within 10 business days, call Netspend's Customer Service at 1-866-387-7363.
What do I do when I receive my card in the mail?
When your card arrives, you'll simply activate it by following the printed instructions that arrive with the card.
How Do I Activate my Netspend Card Once I Get It?
As soon as you get your Netspend card in the mail, you can go online or call Netspend directly to activate your card then you load $40 on your card, NetSpend instantly puts an additional $20 on your card and the card of the person who referred you. This is NOT money you're paying Netspend. It's YOUR money on your card and you can spend it anyway you want. Loading your card is simple. You can do it online or at almost any major grocery store, drug store or gas stations such as Price Chopper, Win Dixie, Hess, 7-Eleven, Rite-Aid, Mobil, Wal-Mart, etc (locations are listed on their website – over 30,000 locations nationwide). Doing it online is the easiest and it's quick too.
Could I Earn $20 Over and Over Again?
YES YOU CAN! That's what makes this such a great opportunity! Once you've gotten your NetSpend card and received your $20 new user bonus, you're going to want to start referring others so you can start getting multiple payments of those $20 referral bonuses. There's no limit to how many times they'll pay you and you only have to load the $40 on your card only once initially.
How Does Netspend Know When I Refer Someone So That I Get Paid?
The way that NetSpend tracks your referrals is by giving you a link to your own referral page which you can give to your referrals so they can order their card from that page. Your Netspend referral page is tied to you through a unique referral number. When someone clicks on your link at that page, they are directed to an order page where they can easily order a card. You'll be able to tell who ordered a card from your page by logging into your Netspend account. You will see their name under your referral list. You will also be able to view who has activated their card and loaded it and how many $20 bonuses you have made.
How do I add money to my NetSpend Prepaid Card?
Choose from several ways to add money to your NetSpend Prepaid Card:
Direct Deposit: Direct Deposit is the easy and free way to add your paycheck or government benefits check to a NetSpend Prepaid MasterCard.
NetSpend Reload Network Locations: There are more than 130,000 convenient locations in the U.S. where you can add money to your card account like grocery stores, Walmart, ect. Our Reload Center locator helps you find the lowest-cost locations nearest to you. Learn more.
From Your Bank Account: Add money from virtually any U.S.-issued bank account. If you have a checking or savings account or a bank debit card, use it to add money to your NetSpend Prepaid MasterCard account.
PayPal: Use PayPal to add money to your card for FREE. Transferring funds to a NetSpend Prepaid MasterCard is easy and FREE when you use PayPal.
Tax Refunds: Tell the IRS to electronically deposit your refund directly to your account.

What can I buy with my NetSpend Prepaid Card?
With a NetSpend Card, you can make purchases at stores, over the phone and online. Use it anywhere that a regular Bank Debit card is used or a Debit MasterCard is accepted. Withdraw cash at ATMs worldwide. Pay bills, rent and other necessities. Fees may apply in certain transactions, like at ATM's.
A Few Tips On How To Refer People to Netspend
There are so many ways that you can share the Netspend opportunity with others. I little imagination goes a long way. The common factor is that you'll need to give out the link to your referral page. The best place to start is to share this opportunity with your friends and family. Since this opportunity isn't an MLM or anything like that, you shouldn't get the typical negative response for sharing this. Especially when you show them it's a way for them to make FREE MONEY! When you show your referral that you both are getting $20 free out of it, they'll quickly see that it's a win win for both of you! If you are able to share this with 10 of your friends and family members, that's an easy $200 and you helped make them some free money in the process as well.
Moving on from your friends and family, there are so many other people you can reach out to by going online. You can get other referrals by posting a few ads each day on free online classified sites such as Craigslist and Backpage. Simply write up a quick ad talking about how you found a way to $20 free over and over without having to spend any money. Then just put your Netspend order link in the ad. You will be surprised at how many people will read your ads, then click on the links and order cards.
Here's a Few More Tips:
Share your Netspend order link on Facebook and Twitter. Most people have hundreds of friends on Facebook. Especially if you belong to a Facebook group with others that share a common interest with you. If you're marketing business opportunities already, then FB groups dedicated to that industry is a great place to share Netspend.
Include your Netspend order link in the signature section of your emails. You can google how do this so it shows up automatically at the bottom of all of your emails.
Hang up some flyers at grocery stores, public business bulletin boards, college campuses and anywhere else that you can think of.
Create "dropcards" by ordering customized business cards with a short description of how to get $20 free and include your NetSpend order link on them. Then "accidentally" drop them in different locations. People will pick them up. Especially if it says "Get $20 FREE" on them. Business card are really cheap too. You can get 100 of them for like $10.
Use Sticky Post-Its with your Netspend Link and a title that says "Get Paid FREE Money". Then stick it everywhere in public places. Click Here to learn about how to make these.
Create a simple webpage using the YouTube video on this page to explain the Netspend opportunity. You can easily do that using a free website service like Weebly or even a free Google Blogger account if you have a Gmail account. To make better use of your marketing, create a simple capture page. Click Here to Learn More about that.
There are so many ways to advertise so you can get your NetSpend order link in front of a lot of people, it's endless. Just be creative. Even if you were to just post some online ads each day and nothing else, you will still be able to get quite a number of referrals and make some great extra money, if you're consistent at doing this. CLICK HERE to learn some more advanced internet marketing methods
If you're interested in ordering your own FREE NetSpend card and getting paid FREE money, CLICK HERE to order a card. Remember, it's FREE.