There's no limit to how you can market your home-based business. Of course some strategies are more effective than others….but one thing's for sure, if you're in the game to make money, you've got to do ALL you can – WHEN you can. This includes using offline marketing strategies in conjunction with your online strategies.
A little imaginary goes a long way when marketing. You certainly want to use "tried and true" methods that have worked for others, even though you may have to jump a learning curve to get good at it. But not all marketing methods are complicated.
One simple and a very cheap method that you can do while you're running around town in your daily life (AND it's EASILY duplicated by anyone) is "Post-It Note marketing". All you need are colorful, eye-catching Post-It Notes and a rubber stamp with a compelling Ad for your biz opportunity.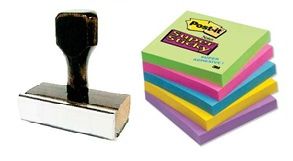 Post-It Notes can be bought anywhere. You can order a rubber stamp from any office supply store or even http://www.VistaPrint.com.  The neat thing about this form of marketing is that you can stick your Ad ANYWHERE you go to be seen by others. Some places are ATMs, vending machines, door knobs, cars, public restroom windows and stalls, mail boxes, mailed bills, magazines & book covers in stores, elevators, shopping cart handles, dressing room windows in clothes stores, etc. You're only limited to your imagination. Just think about where you go during the course of the day. Stamp your Ad on a whole pad of your Post-It notes and carry it with you EVERYWHERE.
Make it a goal to use the whole pad up while you're gone. That way you're intent on getting your message out and won't forget that you've got it with you while you're conducting you're activities.